Hire a Contractor to Install or Replace Siding
Find Reliable Contractors Today.
Quick, Free Service, No Obligation!
Cement Siding
Cement siding provides the look of wood without the necessary maintenance that natural wood demands. Homeowners who prefer wood siding but find it an unwise choice - because of high risk for insect infestation and/or high-fire danger areas - may prefer cement siding instead. Cement siding's variety of patterns and colors, its resistance to warping, and its long-lasting qualities make it a popular choice among siding options.
Types of Cement Siding
Fiber cement siding is sold in panels; some products are made to look like wood shakes or tiles. Various textures - such as wood grain, stucco or vertical grain - are stamped on during the manufacturing process and lend a more natural look. Cement siding panels may come ready to paint or already coated in hues of brown, beige, gray, and many other colors. Cement siding comes in sheets measuring between five and ten feet wide, with a thickness of 5/16 of an inch. Generally, the thicker and denser the product the better resistance it will have to temperatures and sound transmission.
Warranties on Cement Siding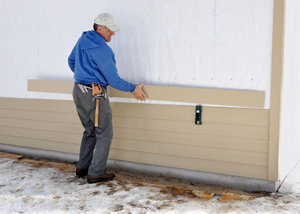 Warranties offered on cement siding vary according to manufacturers but most provide some coverage that may be transferred from the original buyer to the first subsequent homeowner. Warranty periods may be as long as 50 years from the date of purchase. Some warranties are for shorter duration and may not be transferred. Coverage usually is for manufacturing defects and will cover the cost of repairing or replacing defective panels only. Some companies warrant that the product will not crack, rot, or delaminate and will not suffer damage from termites when stored, installed, and maintained according to instructions.
Common Problems with Cement Siding
Cement fiber panels are very heavy and need two people to install them (one to hold the panel and one to screw it in place.) As a result, the labor costs for a cement siding installation may be high. It is also a difficult material for do-it-yourselfers to work with -- a professional contractor is often the wiser choice for most homeowners. Cement fiber siding is brittle and can break, crack, or chip easily, especially during transportation and installation.
Environmental Impact of Cement Siding
Cement has a long life (approximately 100 years), and therefore, rates as a green product for durability. It is an inert material and will not emit dust or volatile organic compounds once it is installed.
The production of cement, however, is a major cause of carbon dioxide emissions: directly through the manufacture of cement as well as in the use of energy to distribute it. Cement-processing plants that employ sulfur-containing fuels also emit sulfur dioxide, which leads to acid rain and smog. The stone, sand and other materials that go into cement require an excavation process that can deface beautiful mountains and hills. Cement also requires large amounts of water.
Popular Brands