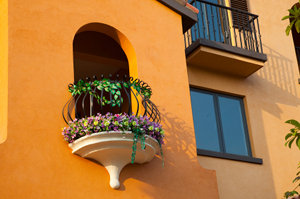 Stucco Siding
Stucco has been used in architecture for centuries to cover both the inside and outside of homes and reached its zenith in artistic development during the Italian Renaissance. This highly-flexible material can be produced with a smooth or grainy texture in an unlimited pallet of colors. Newer siding options - such as vinyl and cement - copy the original material attesting to its popularity as a home covering.
How Stucco Siding is Produced
Stucco siding is made by combining cement with water and sand or lime. Grainy textures are accomplished by adding pebbles and color may be achieved by adding pigment. Tinted stucco replaces the need to paint the structure, at least until a different color is desired. Stucco may be applied by hand with a trowel or sprayed on. It is usually applied in several layers with the top, or finishing, layer featuring a texture created by smoothing, raking or swirling the wet stucco.
The curing process - during which time the stucco hardens - is of great importance in order to avoid cracks. As a result, professional installers are a better choice than attempting a do-it-yourself stucco installation.
Types of Stucco Siding
Traditional stucco - a thick, almost liquid substance - is applied by hand using a trowel or by spray. Synthetic stucco, known as Exterior Insulation and Finish Systems (EIFS), comes in panels that resembles the traditional material but is lighter weight. Stucco is also sprayed onto metal panels and sold for industrial, commercial and residential use.
Warranties on Stucco Siding
Traditional stucco application may be covered by the installation contractor, and homeowners should check on this important detail prior to signing a contract. The materials themselves are less likely to be covered by a manufacturer's warranty. Although some companies will offer replacements for defective products, it is hard to prove whether the product or the contractor's application technique is to blame for resultant damages.
Stucco panel or EIFS carry warranties of varying lengths depending on the manufacturer. Warranties are usually for three to five years and cover the replacement of defective materials only and not any damages made to the building because of the flawed EIFS panels. Metal panels with stucco finish are covered for twenty years against leaking and rotting.
Common Problems with Stucco Siding
The most common problem with stucco siding is the appearance of cracks caused by improper installation and curing. Cracks can usually be repaired with stucco and paint; however, they will often reappear.
Problems with synthetic stucco have become common as moisture can be trapped behind the panels and cause wood rot and/or mold. Repairs require the replacement of not only the stucco panels but all rotted building materials as well. Several lawsuits have been settled in favor of building owners in recent years.
Popular Brands
Custom Panel Systems
ElRey
Jersey Panel
LaHabra
Nirandia
ParexUSA
ProWall
Stuc-O-Flex
Teifs